Mac Studio Finish Concealer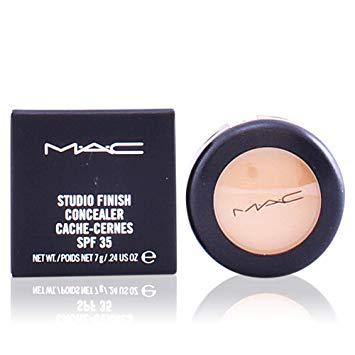 Every beauty artist is asked to recommend the best concealer at least once in their career, and I am no exception. To be honest I believe, there is no such thing. There is no, one perfect concealer. There are a lot of damn good concealers out there but… far from perfect.
However, there is one concealer that rocks my jam since the beginning of my career and that is MAC Studio Finish Concealer. First of all, it comes in a wide range of colours… so that's covered (pun intended) Lol… Secondly, it's so remarkably concentrated that it can provide an opaque and impermeable coverage, invisibly covering dark circles, blemishes, skin-imperfections and discolorations. What can I say…? If you have your ex's name tattooed, it probably will hide that too… but I just hope you haven't 🤣     
Another great thing about MAC Studio Finish Concealer is that despite of being really concentrated it is extremely light weight. You can wear it all day and never feel that you have a concealer on. It's supplemented with antioxidants (Vitamin A and Vitamin E), and also contains Silica that aids in absorption of the skin's oils.
To add to its awesomeness MAC Studio Finish Concealer has sun protection factor (SPF) of 35, which means it can absorb above 97% of Sun's UVB rays… So, that's a definite thumb up 👍.
Application is easy. You can apply it with a medium to firm brush, sponge or with your fingertips. However, its best not to over apply it as due to its concentration it can look cakey but honestly you don't need to as a little amount goes a long way.
Price wise, with £16.50 for a 7gm tub it's on a dearer side, but I think this is the closest to a perfect concealer available, so my vote is that, MAC Studio Finish Concealer is definitely worth it.