DO'S AND DON'TS OF FACIAL MASKS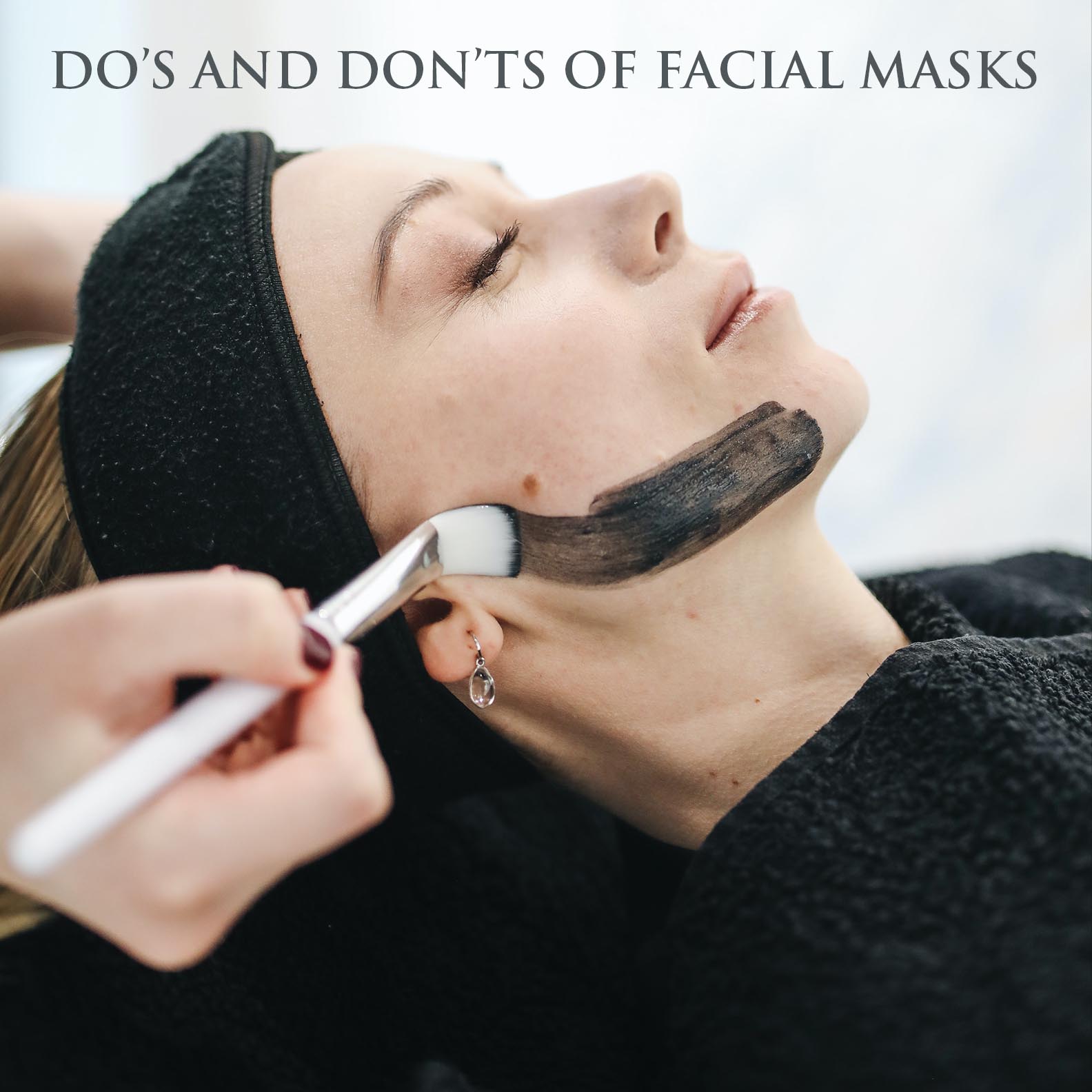 If done right, facial masks could be beneficial to your skin as part of your regular skin care regime. Facial masks can be helpful in addressing specific skin care concerns like dry skin, fine lines, oily skin etc. These masks can also be an enjoyable giving a relaxing spa like experience. However, doing is right is the key as doing it wrong can cause issues like dryness, irritation, redness etc. I have put together a few do's and don'ts of facial masks that I believe would be beneficial for everyone… so, here we go:
Do's
TAKE YOUR SKIN TYPE OR CONCERNS INTO ACCOUNT
Always choose your mask based on your skin type and always have a goal in mind for your mask. For example, if you have dry skin then maybe go for a hydrating mask, or if you have oily skin then perhaps a mattifying mask would be a better option. Never pick a facial mask just because it has received great reviews.
USE ENOUGH BUT NOT TOO MUCH
When it comes to facial masks, less is often more…, which is also the case with many other skin care products. A super-hefty layer won't make a more effective face mask. Typically, your face should only need one even layer of mask.
APPLY A MOISTURIZER AFTER WASHING OFF THE MASK
Your skin care routine is not done until you have moisturised your skin after washing the mask off. The reason you need to follow-up your mask with a moisturiser is that without it you may end up with dry skin, which is never desirable.
USE FACIAL MASKS CONSISTENTLY
There is a tendency to see facial masks as an occasional treat. However, depending on your choice of mask and your desired goal, your skin and complexion might benefit from using it more often. Again, depending on your choice of mask and your desired goal, you may even want to use facial mask as often as up to three times a week. One good way to learning how often to use your mask is to check the directions supplied by the manufacturer or came with the prep instructions.
Don'ts
SKIP CLEANSING YOUR SKIN BEFORE USING FACIAL MASK
It's no brainer that you would want to apply a face mask to clean, dry skin, so make sure not to skip cleansing and drying your skin first. Otherwise, you could be applying your face mask on top of all sorts of dirt and grime. Use a gentle approach like using warm water to help remove dirt, oil, and traces of makeup.
APPLY WITH DIRTY HANDS
Cleaning your face before applying a face mask is important, but you must also make sure that you have clean hands while applying mask. The last thing you want is to transfer oils or bacteria from your hands to your face! So, don't apply a face mask on with your fingers unless you've given your hands an extra thorough cleansing first. Better still, try using a flat foundation brush for a hygienic and mess-free way.
LEAVE THE MASK ON FOR TOO LONG
It may feel like it but leaving a facial mask on for extra-long time wouldn't make it work better. So, always follow the time recommended by the manufacturer or in the instructions. Perhaps use a timer if you find it hard to track time.
ONLY USE MASK DURING THE DAY
The general assumption is that you have to be awake to use a facial mask. Fair enough, you shouldn't take a nap while wearing a clay mask, but there are other masks that are specially made to be worn overnight. Some of those masks, with continued use over time may help to improve skin's firmness and elasticity so give them a try.
Above mentioned dos and don'ts, not by any means cover the entire subject as there is a lot more to facial masks than that can be covered here. However, I believe the points I have mentioned are the most important ones and if taken into consideration before you go for a facial mask then will be really beneficial.